This is a project that aims to create a system of
independent units

for the needs of the future, where our house will become an integrated reality capable of following us and compose around us wherever we are.
IDEA

The main starting point in our analysis has been one of the three primary needs in the man's evolution: the "sleep". The fundamental importance of sleep to human health is undeniable.

SLEEP

Sleeping for our body is as important as eating or drinking. A good rest always helps the performance of our body and improves all those activities that require concentration and coordination.
ORGANISM

Actually, while we sleep a number of physiological processes take place. Sleep is critical for the body, for the efficiency of the immune system, for health in general, for growth and for correct organic functions. In any situation and in any place one of the key features for a peaceful sleep is to relax and feel safe.

SOLUTION

Starting from this need we created "EVE", the compact modular unit that will be your selected environment for sleep and for all relax moments in complete peacefulness , safety and privacy, wherever and whenever you are.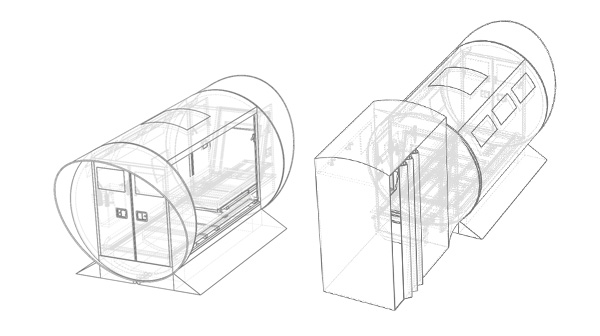 the modular living unit

with a cozy and comfortable bed. Imagine where you would be… EVE will always be with you.
MODULE

Designed in every detail to meet high requirements and aesthetic/quality parameters, EVE is a solid independent unit suitable for all types of environment. For indoor or outdoor usage, it may be integrated in primary and secondary structures such as houses, hotels, villas, camping sites, hospitals, barracks, military camps, construction sites , reception centers, sports centers or anything else you can imagine.

USE

EVE can be assembled in several different configurations in order to accommodate more people or create custom spaces. Depending on the needs (civil, industrial, hospital, humanitarian or military) this unit can be flexibly configured in terms of comfort, security and energy independence.

WHAT?

Your house is too small for your friends or relatives?
Would you like a reserved, comfortable and quiet place where to relax, rest or sleep?
You are a professional athlete and would like to rest before or after a race?
You are in an emergency situation and would like to feel safe?

THINK

EVE is the solution for you. You can easily and quickly build new private and cozy spaces, and integrate them into your houses or around you. You can relax safely, forget about what is outside you and just concentrate on what matters.
Aesthetically appealing, EVE contains
technical cutting edge solutions

with a focus on safety, internal comfort and thermo-acoustic insulation.
100% VERSATILE

Independent, autonomous, suitable for any environment and in any situation, thanks to its characteristics, EVE is the solution to most of the requirements of the living space. Cleaning and disinfection of the room is simple and fast.

100% RELAX

For single users, couples, families or groups, EVE becomes the reference point when you want to sleep or just rest in absolute safety and peacefulness, feeling as if you were in your favorite place.

100% SERVICE

For daily usage or full-time service, in the most inaccessible places or in the most crowded town centers, for tourism or for first-aid after disasters, EVE is the answer for a safe and uncompromising rest.

100% SECURITY

When you sleep or rest, you want to do it in peace. In this situation the reactivity towards dangers decreases and you become vulnerable, so our surroundings must provide for our safety and EVE performs this task very well. The dangers are multiple in terms of nature and gravity, such as heavy rainfall, flooding, lightning, fallen branches, wild animals, sudden climate changes.

.
Living Unit – Worm Evolution